This past Sunday Americans celebrated the end of the NFL season by eating lots of fried food, cheering for the players as much as the commercials, and then passing out praying their boss is a Giants fan. Now that the Super Bowl is over, one fact remains, only 11 days until pitchers and catchers report to spring training.
In light of the imminent arrival of pitchers and catchers to Florida and Arizona I decided to write about pitching, and more specifically, starting pitching. As I alluded to in my previous post, every starter in a rotation has the ability to contribute as much as his fellow starters. The designation of #1 starter or #5 starter usually tells us something about a pitcher's value, but both the #1 and #5 starter in every rotation have equal opportunities to contribute.
This off-season a number of high quality starting pitchers changed teams including C.J Wilson (Rangers to Angels), Mark Buehrle (White Sox to Marlins), Edwin Jackson (Cardinals to Nationals), Gio Gonzalez (A's to Nats), and Matt Latos (Padres to Reds). Recently the trend in Major League Baseball has been to compile an elite set of starters in order to achieve success. Examples include the Phillies, Giants, Braves, and Rays. No matter how a general manager accomplishes this goal, putting together a great rotation instead of a star studded lineup has become the norm.
No division compiled more starting pitching in the last 3 years than the National League East. Whether by trade, free agency, or through the draft, the NL East is chock-full or great starters.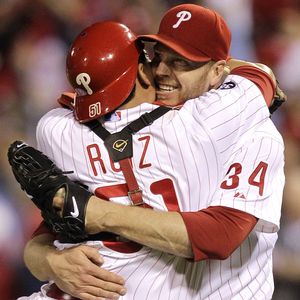 Philadelphia Phillies
: When you think of great starting pitching there is almost no better place to start then the reigning NL East champion Phillies. With All-starts Roy Halladay, Cliff Lee, and Cole Hamels topping the Phillies rotation, Philadelphia is poised to claim a 6th consecutive NL east title. With the emergence of Vance Worley as a reliable strike-throwing starter (61.5%
F-strike%
) the Phillies decided to allow the now older and more injury prone Roy Oswalt to test the free agent waters. This makes their rotation younger and less expensive, especially since both Cliff Lee and Cole Hamels will be making considerably more money in 2012 than in 2011. Rounding out the rotation is Joe Blanton. Blanton spent almost the entire 2011 season on the disabled list, but was integral to the Phillies' World Series runs in 2008 and 2009 and, like Worley, should provide the Phillies with 5 strike-throwing starting pitchers. Last season the Phillies 5 starting pitchers compiled a WAR of 28.8 utilizing Fangraphs' version of
WAR
. In comparison the 2011 Marlins starters compiled a measly 15.5 total WAR. The Phillies should be pleased with their rotation going into the 2012 season as it, along with the Giants rotation, is one of the top 2 rotations in the NL.
Atlanta Braves
: To say the Braves have depth in their starting rotation is a massive understatement. 7 different starters could easily see themselves in the Braves 2012 rotation. Most teams would turn to the witchcraft to compile a group of arms like the Braves'. While the Braves' depth seems almost like overkill, it may prove vital to their success. Last season only veteran sinkerballer Tim Hudson reached the 200 inning plateau with no other Braves pitcher currently in the 2012 rotation throwing for more than 152.0 innings. Beginning the season 4/5 of the Braves rotation was born in the 1980's with two other possibilities (Randall Delgado and Julio Tehran) under the age of 23. The Braves rotation, unlike the Phillies, is made up of a lot of "ifs". For example, if Tommy Hanson continues his success as a big strikeout pitcher and stays healthy... and if Jair Jurrjens stays healthy and performs as stellar post-All-star break as he does before mid-season... and if Mike Minor and Brandon Beachy pitch at a more veteran level than their ages... and finally if Randall Delgado and Julio Tehran live up to their highly touted statuses... the Braves could have the best rotation in baseball. Is this likley? Probably not, but the Braves rotation has the potential to be incredible, which is better than most.
If the Nats are to win Strasburg is the key
Washington Nationals
: This is quite possibly the most intriguing starting rotation in all of Major League Baseball. No discussion of the Nationals starters can begin with anyone but Stephen Strasburg. As someone who has seen Strasburg pitch in person, I can tell you that he passes the eye test for ace starter. Strasburg demonstrates poise and presence on the mound and has 3 plus pitches. The only knock on the Nats phenom is that his sample size isn't large enough to make any bold statements as to his greatness. His lack of experience coupled with recent Tommy John surgery usually don't bode well for young starters, but Strasburg's talent is unmatched. In an attempt to improve their recently weak starting rotation the Nats flexed their wallets by trading and then extending Gio Gonzalez and then signing Edwin Jackson. Gonzalez was one of the best lefties in the AL last season, but played in pitcher friendly Oakland. Gonzalez compiles a lot of strikeouts, but his forte is getting into and then out of trouble. The southpaw had a WHIP of 1.32 last season but a
LOB%
of 77.1%. With a projected
BABIP
of .302 and a friendlier hitter's ballpark Gonzalez could get burned if he tires after the first time through the lineup, but overall he's a solid addition to the Nats rotation. The best signing of the off-season may turn out to be the one-year deal the Nats gave to Edwin Jackson. Over the last 4 seasons Jackson's
FIP
and WHIP have trended in a positive direction which bodes well for him in 2012. Rounding out the rotation is John Lannan, but with the Nats declaring their desire to move him he may be pitching elsewhere very soon. Chin-Ming Wang and Ross Detwiler will compete for the fifth starting spot. Neither pitcher will significantly improve the rotation, but if Wang can compile a ground ball percentage of at least 50% he could make a significant impact.
Anibal Sanchez
Florida Marlins:
Like the Nats, the Marlins rotation received a makeover. New faces include Mark Buehrle and Carlos Zambrano. Adding Zambrano and Buehrle to Josh Johnson, Anibal Sanchez, and Ricky Nolasco creates a fairly formidable rotation. They key for Johnson is to stay away from the disabled list. When he is healthy he is arguably the best pitcher in Major League Baseball, but for this team to do well he must stay healthy. Sanchez's recent history shows a trend towards ace status, but even if he doesn't achieve #1 type numbers his presence will be felt. Nolasco has been solid, with his numbers showing a shift from a strikeout pitcher to one who gets outs on the ground. If Nolasco's numbers remain similar to last season he will have done his job. Although the Marlins probably overpaid to get Buehrle, he is a lefty with impeccable control, which is invaluable. Zambrano is obviously the wild card of the bunch, but I expect an improvement from him because if anyone can control crazy Carlos it's the wildest manager out there, Ozzie Guillen.
Maybe Mr. Met should pitch
New York Mets
: The Mets rotation sports Johan Santana, Mike Pelfrey, Jon Niese, Dillon Gee, and R.A. Dickey. If Santana can somehow become the pitcher he was before his arm issues, the Mets can basically count on one win every five games, but the odds of him returning to his Cy Young self are slim. Pelfrey may be one of the most frustrating pitchers in the league in that every time he looks like he has crossed the threshold into greatness he regresses back to mediocrity. Niese, Gee, and Dickey are all #4 caliber starters, but with the Mets projected to remain cellar dwellers in the east their contributions lack importance.
Overall, the NL East could be one of if not the best pitching divisions in Major League Baseball, but nothing is certain until they play the games. Ranking these rotations isn't easy but I'm up for a challenge. #1 Phillies #2 Nationals #3 Braves #4 Marlins #5 Mets. The Marlins have the most potential to move up this list while the Braves and Nats have the most potential to move down. One fact is certain, the battle for NL East supremacy will be a fight to the finish.