The Background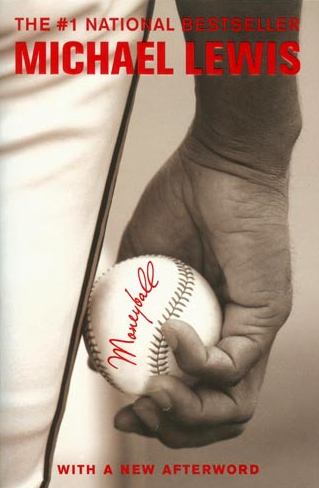 The Book...Enough Said
In Michael Lewis' famed book,
Moneyball
, he hammers home the point that the A's did not stumble upon the idea, that in order to build a winning team with very little money, a General Manager must find market inefficiencies to exploit. The idea comes from economics. Market inefficiencies arise when one agent within the market uses their power to block mutual gains from trade, leading to imperfect competition. Essentially, if one entity within the market abuses their stature by obstructing the natural flow of a certain good, it can cause monopolies to arise. To quote the book that opened so many people's minds to the statistical revolution that is still occurring in baseball, "The chief social consequence was to hammer into the minds of a generation of extremely ambitious people a new connection between "inefficiency" and "opportunity," and to reinforce an older one, between "brains" and "money."
Moneyball
was written in 2003; a
movie
based on the book was released in 2011, and because of the book almost every major sports news channel on television includes statistics like on base percentage in its usual stat line. This begs the question, why am I digging up an argument that most sports fans have heard of? The reason I mentioned market inefficiencies and more importantly
Moneyball
is that Billy Beane, the General Manager of the Oakland Athletics, continues to find market inefficiencies to exploit in order to keep his team relevant amidst a sea of fat cats, copycats, and monopolies (thought I had a third cat phrase didn't you?).
Back to our brief economics lesson, let's talk about externalities. An externality is a transaction that does not occur through prices, and affects a party that had no say in the transaction that caused the issue. Externalities can range from global climate change to taking too much time in the checkout line at your local grocery store. How do externalities and market inefficiencies affect Billy Beane and the Oakland Athletics? Beane's small-market team has little money to throw around in order to, simply put, win. In order to combat this lackluster position, Beane and his front office team, scourer the baseball landscape for the numerous market inefficiencies that have occurred, most often due to externalities, to exploit in order to bring success and prosperity to the "other" city by the bay.
Beane's most recent revelation concerns relief pitching. Starting pitchers usually pitch anywhere between 5-9 innings per game. Starting pitchers who average more an 7 innings pitched per game are usually aces, while pitchers who average fewer than than 6 innings pitched per game rank closer to average/below average in performance. No statistic is without outliers, and Stephen Strasburg represents a great outlier. The Nationals purposefully limit his innings pitched despite his stellar ability, in order to protect his arm in the long-term. Nonetheless, starting pitchers rarely throw complete games, which causes managers to utilize their bullpens often.
Combine the effect of fewer innings pitched by starting pitchers, with the new model of the modern bullpen and you change the market for pitchers. Tony La Rusa, the soon-to-be Hall of Fame manager of the Oakland A's and St. Louis Cardinals, started the current bullpen paradigm of lefty specialists, set up men, and the worst of the bunch, the rigidly limited closer. This
shift in bullpen dynamics
, combined with the invention and overvaluing of the "save" statistic, has led to a market inefficiency. When specialization occurs, oftentimes the salaries of those filling these specialty roles rise.
Let's examine the most lucrative specialty, the closer. The average salary for a closer in 2012, excluding closers still signed to a minor league deal, and including injured closers and their replacements, is about $6 million. These are pitchers who generally pitch for an inning in which their team is ahead by no more than 3 runs. Sometimes closers are put in in tie games, and when they haven't pitched in a while, the manager may choose them to pitch in order to stay sharp. Supposedly these "rules" are placed on a closer's usage because the 9th inning involves so much added pressure, that only certain players can successfully get the last three outs of a game. My argument here is not that closers are useless, (sort of) or that the system in which they are employed is inherently flawed (it is). The point I'm trying to make is that Billy Beane and his cadre in Oakland discovered that because of system in which closers pitch, the market has overvalued them, and will most likely continue to do so.
Bailey, Street, and Cook
Heading into the 2011-2012 off-season, the Oakland A's were coming off of a losing season, but one on which the team could build. The Athletics finished the 2011 season with a 74-88 win-loss record, a .457 winning percentage that left them 3rd out of 4 teams in the American League West. Despite this record, the A's held a number of solid young players that, with some experience and help from veteran talent, might produce winning seasons in 2012 and beyond.
All of this seems reasonable but the Oakland A's are not your average MLB team. With so little money to utilize, the A's must constantly use a strategy employed by the Tampa Bay Rays as well as the financial sector. The strategy is called arbitrage. Arbitrage is the act of taking advantage of price differences between markets by making one or many deals in order to capitalize on the imbalance. In his book
The Extra 2%,
Jonah Keri talks about how the Rays utilize the idea of arbitrage when making player based decisions. Mr. Keri explains it simply as "acquiring an asset for less than it's worth, especially when coupled with selling an asset for more than it's worth." The Athletics have recently used this approach to exploit the overvaluation of closers and other relief pitching slots in order to improve their team.
At first glance, Huston Street seems more like then name of a road rather than the name of a Major League Baseball player. Street attended the University of Texas, and was drafted by the Oakland Athletics in the 1st round of the 2004 MLB draft. Street came out of the bullpen in college and the A's had no desire to change that approach. He pitched for the A's from 2005-2008 at an average of $1,083,906.25 per season. He was paid $3.3 million in his final season with the A's, one in which they traded him elsewhere. Street came out of the bullpen as the Athletics closer. His stats from his bay area years are depicted below.
After producing these fine numbers for the A's, they traded him, Carlos Gonzalez, and Greg Smith to the Colorado Rockies for Matt Holiday. Holiday played for the A's and was then traded to the
St. Louis Cardinals
for prospects Clayton Mortensen, Shane Peterson, and Brett Wallace. Wallace was then traded to the Blue Jays for outfield prospect Michael Taylor. Confused yet? Well if you aren't, let's move on.

Street was first, but Bailey came next. The Athletics drafted pitcher Andrew Bailey in the 6th round of the 2006 MLB draft. After spending a few years in the minor leagues, Bailey was brought up to the team to fill the vacant closer's spot left by Huston Street. He immediately won rookie of the year and was selected to the All-star team,
thus boosting his profile in Major League Baseball. In addition, he compiled these statistics:
In 2012 Bailey was once again selected as the Athletics representative to the American League All-Star team. Seeing that Bailey was a competent closer who, like Street before him, would be overvalued on the free agent and trade markets, Billy Beane traded his young commodity. In this case he traded him to the Boston Red Sox for outfielder Josh Reddick, prospect Miles Head, and prospect Raul Alcantara.
Now that we have discussed Street and Bailey, let's move on to Ryan Cook. Who is Ryan Cook? If you guessed that he is an Oakland Athletics relief pitcher, you would be right. Cook has recently been placed in the closer's role in the A's bullpen. His statistics thus far can be seen below.
Okay, you got me; I may be throwing a whole bunch of statistics your way, but I neglected to tell you the sample size. Cook has only thrown 36 innings out of the pen thus far this season. The numbers Cook is putting up could easily normalize and become only average, but I don't think that will happen. Oh, I think he may give up a home run eventually, but I have faith that by the end of the year, Ryan Cook will look like a solid choice as a closer. He may be utilized in that role for the A's for the rest of this season as well as next season. Interestingly, Cook was one piece the A's received when they traded SP Trevor Cahill to the Diamondbacks and the A's currently pay him $480,000 a year.
Ryan Cook
The Athletics play in a great pitcher's park, thus inflating their pitcher's stats and deflating those compiled by their offense. With recent closer's being signed to deals like 4 years for $50 million (Jonathan Papelbon to the Phillies) and 3 years for $27 million (Heath Bell to the Marlins), many teams may jump on the chance to trade for Ryan Cook and utilize his
arbitration
years (the first of which is in 2015) or even sign him to a more moderate contract. The A's may not garner an incredible package of players for Cook, but with the advanced metrics they deploy, the scouts they trust, and the replaceability of Cook, anything the A's get in return may make such a deal true arbitrage.
Finally...
In the end, I am predicting a situation based on lots of facts, a pattern, and some assumptions. Teams devise new ways to improve themselves everyday, but Billy Beane has definitely found a market inefficiency to exploit in the production and selling of bullpen pitchers. He uses them for his own team only while he pays them less than $1 million, then sells them for other players to teams who can, and will pay them more money.
The Athletics need all of the help they can get when it comes to winning, and Billy Beane is the man to keep them ahead of the curve. Whether he uses simple economic principles like market inefficiencies, arbitrage, and positive gains from externalities, Beane continues to succeed. Maybe, that's why he has been the Athletics General Manager for 15 seasons, the longest current streak in Major League Baseball.