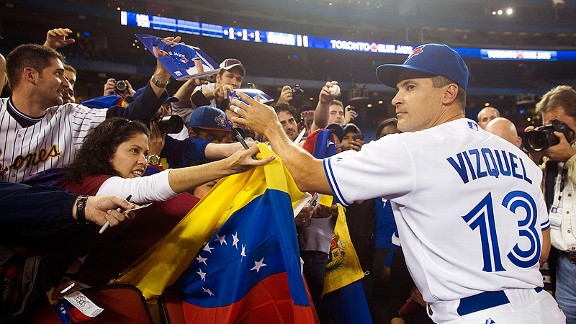 What if I were to tell you that after 24 years at the same job, a true professional has decided to retire. Retirement is a natural part of employment life. 24 years working at the same company, firm, or with the same organization would be considered a lengthy career, one deserving of a send-off party with a cake, party hats, handshakes, hugs, and the obligatory, "speech, speech, speech, speech." Well, what if I were then to tell you that instead of all that, the 24-year veteran employee would get to throw out the first pitch at a Toronto Blue Jays game, in front of 20,000 screaming fans, and three famous fellow countrymen? That sounds like the best retirement party ever.
Yesterday, the final day of the 2012 Major League Baseball regular season, marked the final game for one of baseball's best Venezuelans, infielders, and overall players, Omar Vizquel. For those of you unfamiliar with the 45 year old, here is some history.
Vizquel broke into Major League Baseball with the Seattle Mariners in 1989, the same year as fellow Mariner Ken Griffey Jr. Vizquel came up to the Majors as a shortstop, playing 143 games for Seattle at that position at the age of 21. He stands only 5 feet 9 inches tall, and weighs close to 180 pounds, but he made up for his size with great speed, fantastic hands, and some of the best instincts any modern day shortstop has ever had. Vizquel played 5 seasons with the Mariners, winning a much-deserved gold glove in his final season with the team, before being traded to the Cleveland for
Felix Fermin
,
Reggie Jefferson
and cash. He became an instant defensive star for the Indians. As the everyday shortstop for Cleveland for an entire decade from 1994-2004, Vizquel played in 1,478 games, winning 8 gold gloves and attending 3 All-Star games. He was one of the mainstays, the centerpieces, the rocks of the great Indians teams of the mid to late 90's, a team that Cleveland fans still think should have won the 1997 World Series.
In 2004, at the age of 37, Vizquel could have retired, finishing off a very good career, better than 90% of players drafted or signed by an MLB team. Instead, he signed a 3-year deal with the San Francisco Giants. He ended up playing 4 seasons by the bay, playing in 542 games, averaging 128 hits, 58 runs scored, and 17 stolen bases per season. As a side note, Vizquel averaged 22 stolen bases a season throughout his career, and between the ages of 37-41 he averaged just a tick below that at 17. It doesn't seem like Vizquel ages at the same rate of most MLB players.
After ending his 4 year campaign with the Giants, Vizquel played one year for the Rangers, 2 for the Chicago White Sox, and his last season north of the border with the Toronto Blue Jays. In those last 4 years of his career, Vizquel played an average of 72 games per season, but in those 72 games he 55 hits a year and a .632 OPS. During his illustrious
quartet of seasons, Vizquel played predominantly as utility infielder; filling in at which ever position he was asked to. He played 3rd base, shortstop, 2nd base, 1st base, and even once of twice in left field. For 19 seasons he played almost every game at shortstop, but for the last 4 years, he played wherever he was asked to play. That shows a love for the game.
So, other than a long career, why should we remember Omar Vizquel? There is another, some would say better, player ending a storied career this season, Atlanta Braves third baseman Chipper Jones. Chipper deserves his own article, and once the Braves are booted out of the playoffs, unless they win the World Series, I may very well commemorate Chipper's great career. Today is reserved for Omar Vizquel. According to www.baseball-almanac.com the first

Venezuelan

national to play in Major League Baseball was
Alex Carrasquel
who made his MLB debut in 1939 for the Washington Senators. He was a right-handed pitcher whose career lasted for 8 years. Since then, 273
Venezuelans
have played Major League Baseball, but there has been only one Omar Vizquel.
Now that we know who Vizquel is, let's look at some numbers in order to get a sense of what type of player he was. Over the course of his illustrious career, Vizquel compiled a 40.5 rWAR, 47.4 fWAR, and 29.4 WARP. According to Fangraphs, Vizquel has been the 11th best fielding shortstop since 1900, and the 31st best shortstop to play baseball since 1990. The only
Venezuelan shortstop to rank higher than Vizquel was the great Luis Aparicio, who ironically showed up in Toronto to watch Vizquel's final MLB game. In the last half century, Vizquel ranks as the 14 best shortstop, higher than the likes of Nomar Garciaparra, Miguel Tejada, Maury Willis, and Edgar Renteria. According to Fangraphs WAR to dollars calculation, over the last decade, Vizquel has been worth $6 million dollars a year on the open market. In 2002 Vizquel turned 35 years old.
As a hitter, Vizquel never dazzled like some of his contemporaries. He didn't rack up hits like Ripken or Jeter, hit home runs like A-Rod, but he managed to compile 2,877 hits, score 1,445 runs, and 404 bases in his career. He ends his career with more hits than Babe Ruth, Mel Ott, Brooks Robinson, Andre Dawson, and even fellow retiree Chipper Jones. He is also has the third most stolen bases amongst any hitter since 1900 with more than 2,800 career hits. Since 1900, Omar Vizquel has the 6th highest Clutch rating of any Major Leaguer at 7.63, behind only Tony Gwynn, Dave Parker, Pete Rose, Mark McLemore, and Scott Fletcher. Clutch is Fangraphs' way of calculating how well a player performed in high leverage situations. It's calculated as
Clutch = (
WPA
/
pLI
) –
WPA/LI. For more on the stat click HERE. Anything above a 2.0 clutch is considered great, but Vizquel ranks in the top 6 all-time in that category since 1900. Basically, if your team is down by 1 in the 9th inning with 2 outs and runners on 2nd and 3rd, you want the 5'9'' 180 lb Vizquel stepping to the plate because more often than not, he gets the job done.
By almost every fielding metric in the game today, Vizquel is ranked near the top amongst shortstops. Since 2002, he has 48 defensive runs saved, and topped 20.0 UZR/150 4 times. Since these statistics weren't kept in the 1990's we do not know how good Vizquel was then, but we can only assume his numbers were if not the same, better. One of the most amazing aspects to Vizquel's fielding was his 2007 season with the SF Giants. According to Baseballprospectus' dominant fielding metric FRAA (fielding runs above average), Vizquel was the 8th best fielder in the game that year (13.1 FRAA). DRS(16) and UZR(23.2) concur that Vizquel, at the age of 41, was one of the best fielders in baseball. He defied the well-known idea that as a player ages they break down, with speed and quickness falling off more quickly than hitting ability. In order to be a great defender, especially in the infield, one needs speed and quickness, to say nothing of awareness, acumen, and agility, all of which Vizquel showed after the age of 40.
So, all of this talk generally leads to the typical, age old, question of, "Is Omar Vizquel a Hall of Famer?" Well, that's a difficult question. he almost reached the immortal number of hits, 3,000. No player to reach 3,000 hits has been denied entrance into Baseball's hallowed up state New York cathedral, but Vizquel fell 123 hits short of that mark. He finished his career with only 59 more strikeouts than walks, but only a career on base percentage of .336. His 11 gold gloves would rank him second among all Hall of Fame shortstops, only 2 behind Ozzie Smith's 13. Shortstops depend somewhat on their double play partners, the second basemen, for good fielding, and Vizquel played with recent Hall of Fame second baseman Roberto Alomar throughout the 90's. On the other hand, Omar was able to win two Gold Gloves without Alomar in the National League in 2005 and 2006.
Defensively, Vizquel is a no doubt Hall of Famer. Offensively, he lacks a bit.
According to Baseball-reference, Vizquel ranks as the 237th best hitter in baseball history, just ahead of Jorge Posada and Hall of Fame shortstop Phil Rizzuto. Will Vizquel be elected into the Hall of Fame? I would ballpark it at a 40% chance he gets voted in. He will be first eligible in 2017, and I don't see him getting in on his first ballot. On the other hand, the decision rests on what the voters value? If they value defense, longevity, and compare him to his fellow shortstops, then I see him becoming part of baseball immortality, but if instead the voters see a hitter with good, but not HOF worthy batting average, on base percentage, and slugging percentage, then he may fall just short. If I had a vote, I would vote for Omar Vizquel. He played the position of shortstop the right way for 24 years. He was a clutch player, who had some of the surest hands, quickest feet, and power arms to play in the hole between second and third base. Most importantly, although not for HOF consideration, he will retire as one of the best Venezuelan Baseball players of all time. In a country where many see Baseball as their means of leaving a country full of narco-barrons and poverty, Vizquel bested the odds and became one of the best players ever. Congratulations Omar, on a fantastic career! Buena suerte en todos sus esfuerzos futuros.